---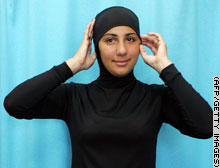 Burkha + Bikini = Burkini.
In a lycra revolution, a cover-all swimming costume is bringing Muslim women on to Australian beaches as lifeguards, unzipping tensions which divided parts of Sydney little over a year ago.
The two-piece "burkini", popular in the Middle East, is proving key to a reshaping surf lifesaving Down Under — once a bastion of white Australian culture and still a heartland of the country's sun-bronzed, heroic self-myth.
"I am Australian so I always have the Australian life style, but now with the burkini it just allowed me to participate in it more. We used to always go to the beach, but now that I have the burqini I can actually swim," Mecca Laalaa, 22, told Reuters.
Laalaa is one of 24 young Australians of Arab heritage who recently signed up to a 10-week training course run by Surf Life Saving Australia aimed at widening the racial mix on beaches.
The shift follows race riots between ethnic Lebanese Australians and white Australian youths at Cronulla Beach in Sydney's south in the lead-up to Christmas in 2005.
Cars, shops and churches were damaged in the violence, which followed an attack on a pair of beach lifeguards.
Laalaa, whose ethnic background is Lebanese-Australian, is relying on a home-grown burkini — a compromise between a burka and a bikini — to keep her covered on Cronulla's sands.
The full-length lycra suit with hijab head-covering is not too figure hugging to embarrass, but is tight enough to allow its wearer to swim freely. It will soon be manufactured in the iconic red and yellow of Australia's surf life saving movement.
"We are surrounded by water all over Australia, it is totally encouraged for us from all the schools, no matter what school you go to," burqini manufacturer Aheda Zanetti said.
"So when these girls decide and choose to wear the veil, they decide to stop doing that. We didn't want to do that."
The burkini is making its appearance during the 100th anniversary of surf life saving in Australia, which began on Sydney's famous Bondi Beach and has grown to count 115,000 volunteers in more than 300 clubs.
Women were only allowed membership in 1980 and some clubs patrol inland lakes, including Lake Jindabyne near the snow-capped southern Australian Alps.
Zanetti, who sells her burqinis for up to A$200 ($160), hopes to widen the garment's appeal beyond Muslim women at the beach.
"We are also encouraged in Australia to cover up not due to modesty but for sun protection, so this is not just a modesty aspect swimming suit, it is also a protection against the sun, surf and sand," she said.
Taken from: http://www.cnn.com/2007/WORLD/asiapcf/01/16/burqini.reut/index.html
Thanks to: Sujan Bhi
---
Categories: Feelings