---
Dawgs Domain has created a tool which will retrive your lost Windows Live Messenger password. A great tool if you have forgotten your password and dont wanna go through or cannot retrive it though the microsoft .net passport password recovery process. Many times we do signup using fake address, zip, birth date…. And some ppl are just too lazy to go through the process.
The author claims it has been legitimately made for people that forget their password and not to used to hack your friends msn password. ;)
To recover your Windows Live Messenger password you need to download this small program:

Download WLM Password Recovery Tool
Extract the zip file and run the WLMPasswords.exe. No installation is required =D.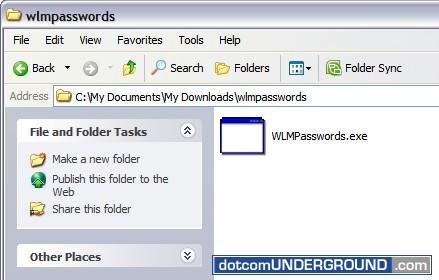 Now type the passport id (email address) for which u want to recover password in the Filter field.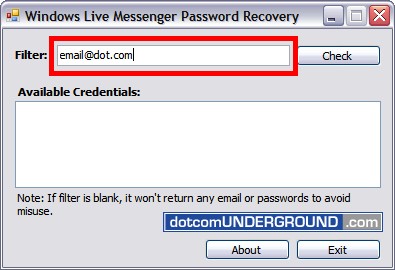 Now click on the Check button to start scanning.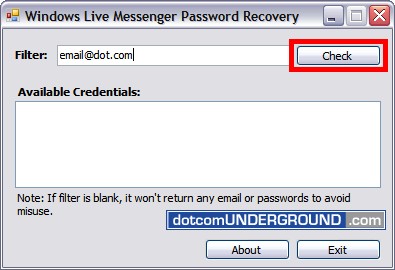 … And you will get the "plain text" password here :|


If you get error running you might need to install .NET Framework version 2.0. You can install it from here.
Its a big sicurity hole and should be fixed bt the msn messenger team asap.
This tool doesnt even need a installation. So if a friend is just bringing it in a pen drive and gets chance to run it on your machine…. Congrats! Your msn password just got hacked!!
Fix it Microsoft!! you better spend more time securing ur apps than marketing -_-"
---
Tags: Hack, Hacking, How-To, Mircosoft, MSN Messanger, MSN Messenger, Security, Tech, Technology, Tips and Tricks, Tutorial, Tutorials, Windows Live, Windows Live Messenger, Windows-Vista, WLM
Categories: Tech, Tips and Tricks, Tutorials