---
You are trying to use the cPanel File Manager and uploads never make it to your folder? But no error message is being shown?
Try the Legacy File Manager. After hitting the upload button, does it give you this virus warning error at the top right (Upload Status) of the page?
"Virus Detected; File not Uploaded! (No such file or directory)"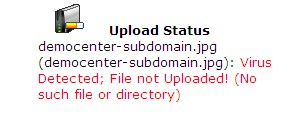 The issue is most likely with the clamavconnector cPanel plugin. Simply uninstalling the plugin should solve the issue.
To uninstall clamavconnector, go to "WHM > cPanel > Manage Plugins"

Look for the "clamavconnector" and click on the "Uninstall clamavconnector" button.


Let the process complete and you should now be able to upload files with the cPanel File Manager.
If you need help with how to use the cPanel, you can check out this video tutorial provided by WebHosting.com.bd:
Video Tutorial on How to use cPanel File Manager
---
Tags: cPanel, Linux, Web Hosting
Categories: Tech, Tips and Tricks, Tutorials