---
Your friend started shooting the video long before the actual scene came? Or stopped it late?
Don't worry. You can easily trim (edit, split) out the part of the video you want using a free software called Yamb.
Before starting to trim your .3gp or .mp4 mobile video, you need to download and install Yamb. You can download it directly from here:
Download Yamb-2.1.0.0 beta 2 with installer
Visit the Yumb download site here to grab the latest version.

Download the .3gp or .mp4 video files to your PC from your mobile phone.
Now start Yumb.
Click on "Editing".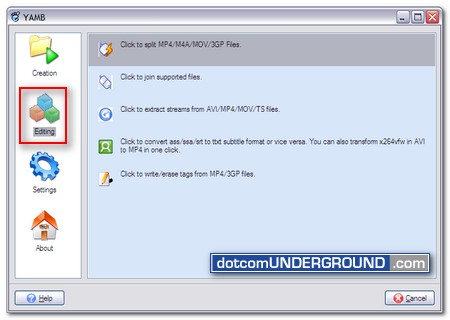 Then double click on "Click to split MP4/M4A/MOV/3GP Files".

In the "Split from" section choose the time you want to split or trim out. The format is in HH:MM:SS:sss (Hour:Minute:Second:Micro Second) . Select the starting and ending time.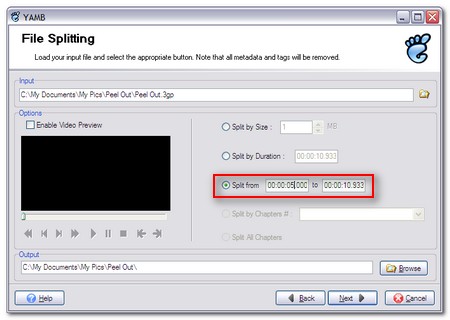 You can use a media player like Apple QuickTime Player to figure out the time line. Or you can just use the player on your mobile phone ;)
By default the output is saved on the same folder as the input. But you can browse it to your desired location.
When you are done, click on the "Next" button.

Oh the next screen, when you see the "Splitting complete" message, click on "Finish". Ignore the time remaining or other status messages. Your work is done actually :)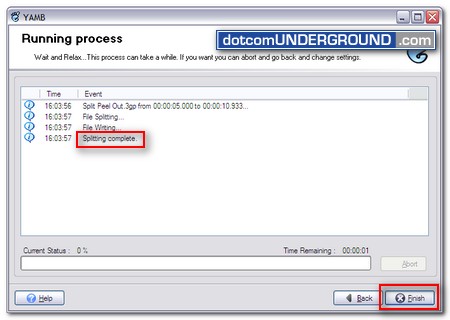 Done! You should now find a new file on the location you saved it to (by default its same as the original file).
Enjoy sharing your precious moments with friends over Facebook or YouTube :)
---
Tags: Mobile, Video
Categories: Tech, Tips and Tricks, Tutorials