---
StrongVPN.com is a truly "strong" VPN account provider with 3360 IPs on 88 servers in 12 countries!
Strong VPN offers a number of plans with different pricing based on how many city/country you want access to.
Cities where StrongVPN currently have VPN servers available at are:
* Los Angeles
* San Francisco
* Seattle
* Dallas
* Washington D.C.
* New York
* Amsterdam
* Livingston
* Manchester
* Montreal
* London
* Frankfurt
* Rugby
* Moscow
* Chicago
* Toronto
* Nottingham
* Contern
* Maidenhead
* Hong Kong
* Basel
* Oslo
* Zurich
* Roubaix
* Kuala Lumpur
With StrongVPN its now possible to make your IP appear to be located at any of these cities!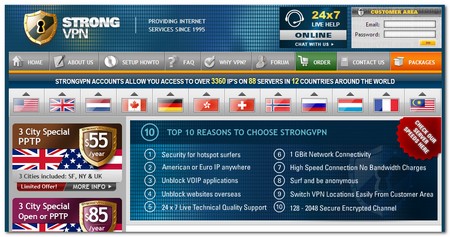 StrongVPN also provide two types of VPN account, PPTP accounts give you access to only their PPTP/L2TP servers whereas the OPEN accounts give you access to both PPTP/L2TP and OpenVPN servers.
If you don't understand the difference between PPTP and OpenVPN, PPTP accounts are easier to setup and costs less. But some ISPs block PPTP. In that case you will need an OpenVPN account. OpenVPN is also more secure compared to PPTP.
And the good news is that the friendly people at StrongVPN does allow you to upgrade to OpenVPN accounts later. So you can just start with a PPTP account, and if you find you ISP is blocking PPTP, you can just upgrade to OpenVPN.
Every VPN account from StrongVPN has a number of free "switching" included. These switchings allow you to change the vpn server you are using. For example, if your account comes with US and UK VPN servers and your account is on a US server now, using a "switching" quota you can change your access to a UK server. Beyond a fixed free switching quota, you can have more switches for additional payment.
Don't know hot to setup a VPN connection? Don't worry. StrongVPN got detailed tutorials on setting up VPN account here.
Btw, if you actually don't have an idea what a VPN connection does and can do for you, it hides your ISP provided real ip address with an IP address of the VPN server. So it appears that you are connected from the VPN server location.
Thus taking advantage of StrongVPN's trong network, you can be in China, and appear to be connected from USA (and access sites and services blocked in China).
This also allows you to:
* Security for Hotspot Wireless Access Users
* Home Internet Users – Cable and DSL providers are well known for not filtering their network from exploits!
* International Internet Users – Governments would like to prevent users from enjoying the Internet, with a USA IP there are no controls!
* Easy online ordering when you travel – Many order forms on the Internet will automatically block certain countries from even ordering.
* Bypass ISP Blocking for VOIP Applications like Skype
* Full anonymity by hiding your real IP.
* Unlike a proxy, you get secured connection for all programs you are using, (e.g ICQ, Email, FTP, News and anything that uses a Internet Connection)
* American Based Unique Personal Fixed USA & Euro IP's
* Anonymous Internet Surfing
* Bypass geographical blocks from certain websites
* Protection against your ISP
Strong VPN is now offering a limited time "3 City Special PPTP VPN" only at $55/year. The plan includes access to their SF, NY and UK servers.
They offer another package names "PREMIUM" at $30/mo which gives you access to all their servers. You can call it a jumbo package which includes US VPN, UK VPN, Netherlands VPN, Canada VPN, Germany VPN, Hong Kong VPN, Switzerland VPN, Norway VPN, Russia VPN, Luxembourg VPN, France VPN and Malaysia VPN. You do need to utilize the "switching" quota to switch between the VPNs though.
So what are you waiting for? Visit StrongVPN.com now and start hopping between cities ;)
---
Tags: Canada VPN, OpenVPN, PPTP, PPTP VPN, UK VPN, US VPN, USA VPN, VPN
Categories: Tech, Tips and Tricks