---
12VPN is a premier VPN Account Provider offering access to both US VPN and UK VPN. You can make unlimited switching between countries, servers and VPN protocols.
Though 12VPN advertises the term "unlimited switching", they actually provide you with better. "Unlimited Access" is what they provide. You can connect to any of their servers over any protocol with same login credentials. There is no need to make changes in control panel or opening support tickets like most other VPN providers require.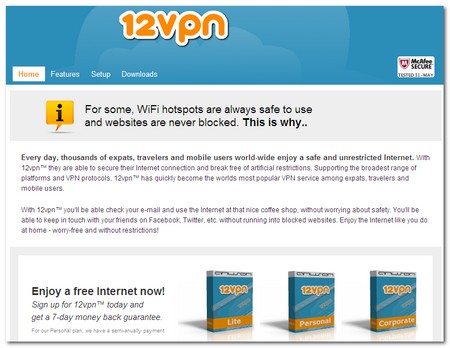 12vpn offers some of most comprehensive plans in the industry. All plans are designed to provide you maximum connectivity options without artificial product differentiations.
The VPN Provider offers 3 simple plans to choose from. The "Personal" includes everything you need for a personal VPN usage. This plan comes with unlimited bandwidth (data transfer per month).
The "Lite" plan comes with all features of the "Personal" plan but has a 10GB/month data transfer limit.
The "Corporate" plan gives same features with multiple users which will be suitable if you have many users in office who needs VPN.
All 12VPN plans allow simultaneous login on phone/pda. This is a feature I have not seen any other to provide. With this feature, along with your PC, you can have secure connection on your iPhone, iPod Touch or other mobile phones.
12VPN also provides easiest port-forwarding configuration out there. Featuring NAT-PMP and UPNP support on all servers, port-forwarding is completely automatic and transparent.
Easy to follow setup instructions are available on their web site. From the members area you can also download installer or configuration files configured for your account. Using those files, you will not even need to enter you username/password setting up your vpn connections ;)
Signup with 12VPN today enjoy your unlimited access to US and UK.
---
Tags: OpenVPN, PPTP VPN, UK VPN, US VPN, USA VPN, VPN
Categories: Tech