---
My Private Network is an unique VPN service provider with fault tolerant, load balanced clusters in both USA and UK.
This means that you always get connected to one of the least utilized servers. In the UK they have 34 servers and the US they have 4. In both cases the in-country servers are spread across multiple providers in multiple data-centers, which should ensure that there is no single point of failure and in turn allow us to provide a very reliable service.
If you do not already know what a VPN is and how it may help you, My Private Network VPN provides you with a secure personal virtual private network from anywhere in the world back to their servers in the UK or USA.
With their VPN accounts you can unblock Facebook, Youtube, Skype, VOIP and surf the net over a secure encrypted channel.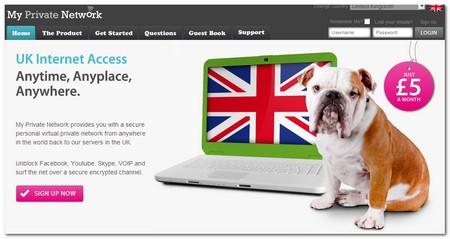 They have 3 VPN plans, Standard UK Plan, Standard USA Plan and Global Plan.
The UK plan gives you access to only UK servers (ie. you only get UK IPs), the US plan gives you access to only US servers (ie. you only get US IPs), and the Global Plan gives you access to both US and UK servers (ie. both US and UK IPs).
With the Global Plan your account is set up on both servers, so you can just keep 2 connects set up and simply use the one you need. Most other VPN providers with multi-country VPNs usually require you some type of "switching" which at times charge extra. Switching countries has never been easier before ;)
Detailed instructions on how to setup VPN connection is available at their Getting Started pages.
You can use both PPTP and OpenVPN and bandwidth is unlimited.
Sign-up with My Private Network today and enjoy your instant unlimited flights to US and UK ;)
---
Tags: OpenVPN, PPTP VPN, UK VPN, US VPN, USA VPN, VPN
Categories: Tech, Tips and Tricks, Tutorials