---
Road Warrior VPN, a security focused VPN Account Provider, provides unblocked secure internet access to the "road warriors".
With Road Warrior VPN you can be sure that your internet traffic is safe and secure. If you ever connect to the internet through Wi-Fi or if you ever check your e-mail while traveling, or while at the local coffee shop or if your roommates could be sniffing your internet connection from the router, you will benefit from Road Warrior VPN
If you connect to the internet using Wi-Fi, it is very easy for anyone with the right knowledge and within range of your signal to ease drop and record all your sensitive information including e-mails, passwords, Credit Card info and Instant Message conversations. If you connect to the internet at hotels, Airports, Conventions Centers or any other type of publically accessible network it is very easy for an attacker to redirect all traffic on a network to their workstation on a wired or wireless connection using publicly known techniques. By protecting all your Internet traffic with Road Warrior VPN your data will be safe and secure between your computer and their VPN servers.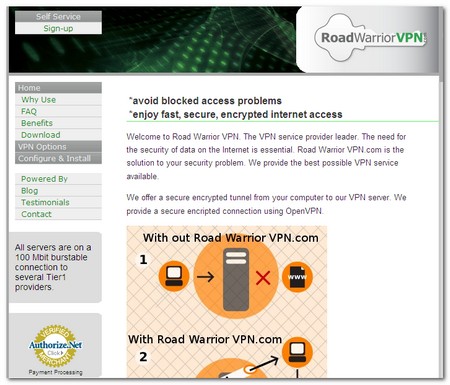 And a Road Warrior VPN account doesn't stop right there. It also unblocks the internet for you. Be it a client's office or another country, there are always chances there are some firewalls blocking your access to some internet resources. With a Road Warrior VPN account, you can bypass all those blocking and enjoy internet with no restrictions.
To enforce security Road Warrior VPN only provides OpenVPN. Both UDP and TCP servers are provided. Note that Road Warrior VPN does not have an option for PPTP.
You can also order a dedicated static IP for extra. Road Warrior VPN servers are located East coast USA. Which means the public IP address you will get will also be from East coast USA.
All Road Warrior VPN accounts come with unlimited data transfer.
Join Road Warrior VPN today and enjoy unblocked secured internet while you are on road. (at home and office too of course!)
---
Tags: OpenVPN, US VPN, USA VPN, VPN
Categories: Tech