---
Microsoft has finally released the Internet Explorer 7 Final (IE7 Final). If you own a licenced copy of windows, you can download and install ie7 directly visiting microsoft ie7 website here.
But if your copy is not original you will have to bypass the Windows Genuine Advantage (WGA). Here is how to crack Internet Explorer 7 Final (IE7 Final) and install IE7 without validation:
Step 1:
Download Microsoft Internet Explorer 7 Final.
Get if from FileHippo.
Step 2:
Uninstall any previous version of Internet Explorer 7.
Go to Start > Control Panel > Add or Remove Programs
Scroll down to Windows Internet Explorer 7, click it, and then click Change/Remove.

Step 3:
Download the required cracks (iecustom.dll and normaliz.dll):

IE7_Final_WGA_Crack.zip
Step 4:
Extract the contents of the IE7-WindowsXP-x86-enu.exe we downloaded in step 1.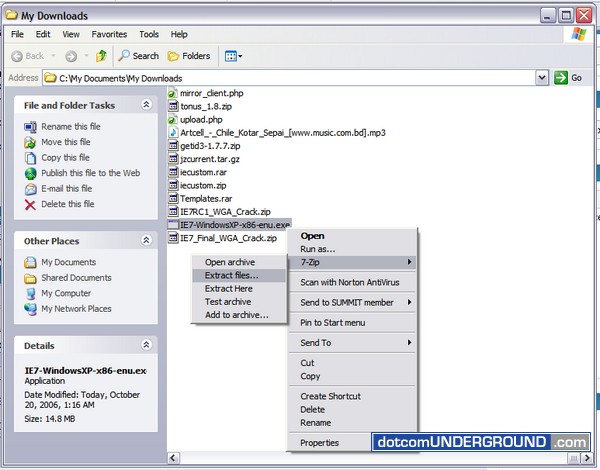 You can use WinRAR or 7Zip to extract the file contents.
Here is what you should get: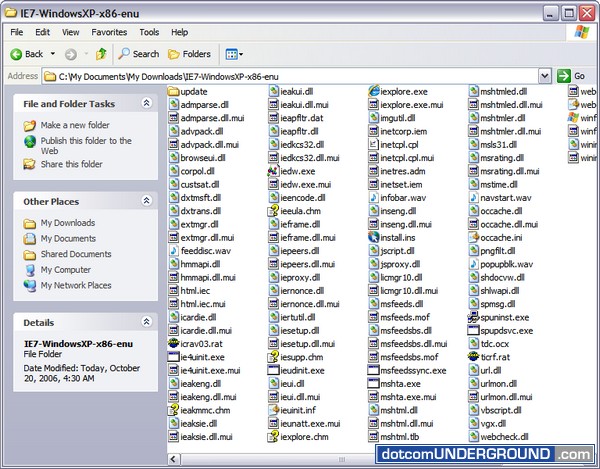 Extract the IE7_Final_WGA_Crack.zip file as well.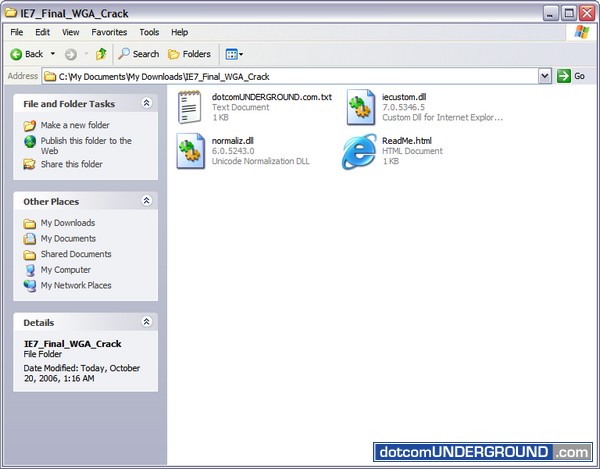 Step 5:
In the extracted IE Setup folder there will be a folder named update (from step 4)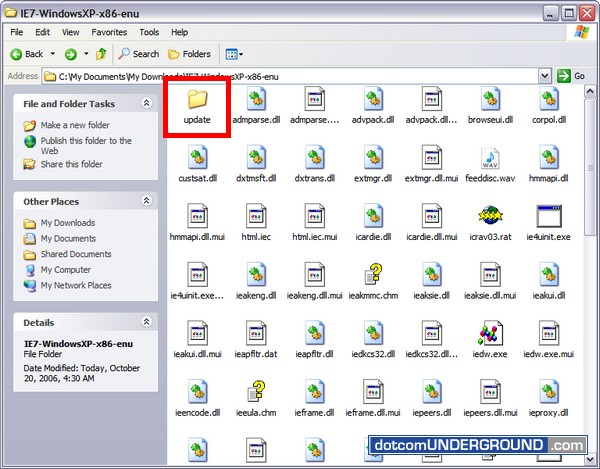 Inside the update folder there is a file named iecustom.dll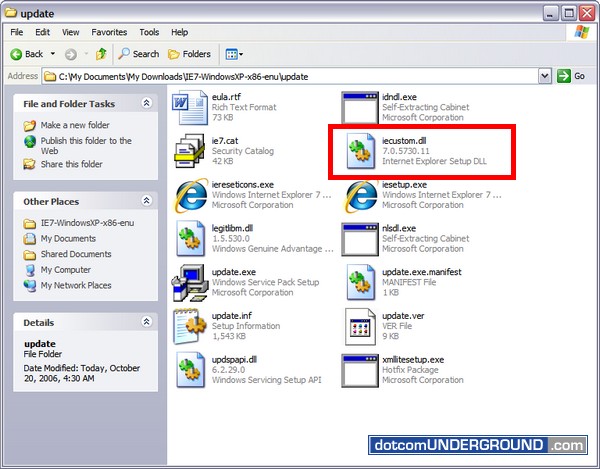 Copy the patched iecustom.dll to the Update folder of the extracted IE7 setup file. Overwrite any existing file.
Step 6:
Run update.exe from the Update folder to start the IE7 installation setup. (Do NOT run iesetup.exe).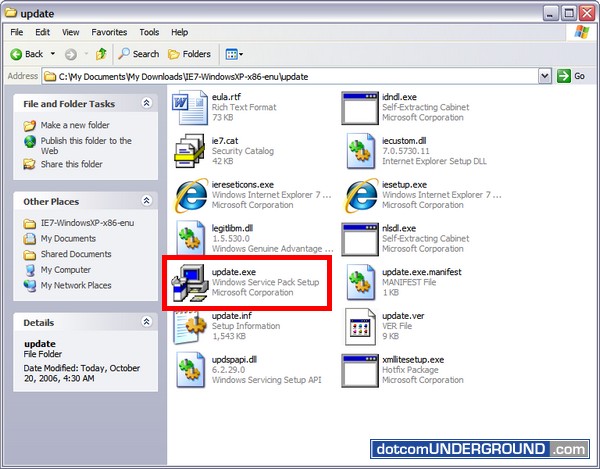 Step 7:
At the end of the successful IE7 installation process, you will be asked to restart Windows, DO NOT RESTART Windows now! Click on the box 'Do not restart now' and then select the 'Finish' button.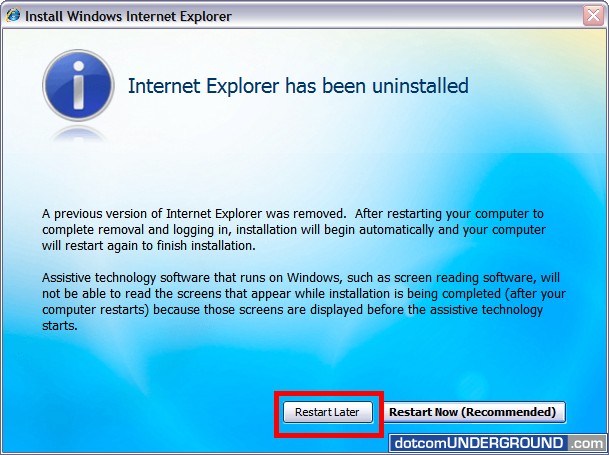 Step 8:
Copy the normaliz.dll from the crack to your "C:/Windows/System32/" folder.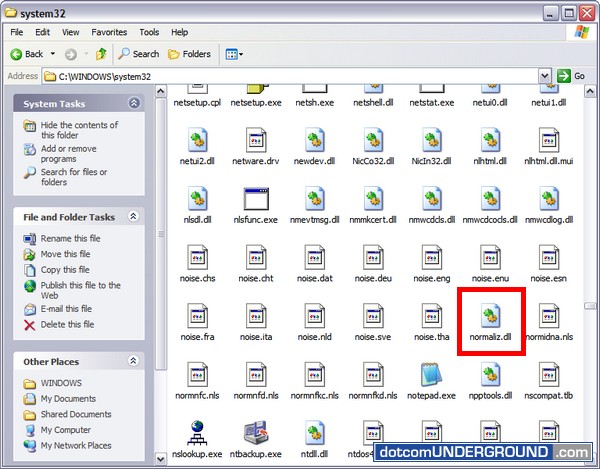 Step 9:
Restart Windows.
Step 10:
After reboot, run xmllitesetup.exe in your IE7's update folder to update.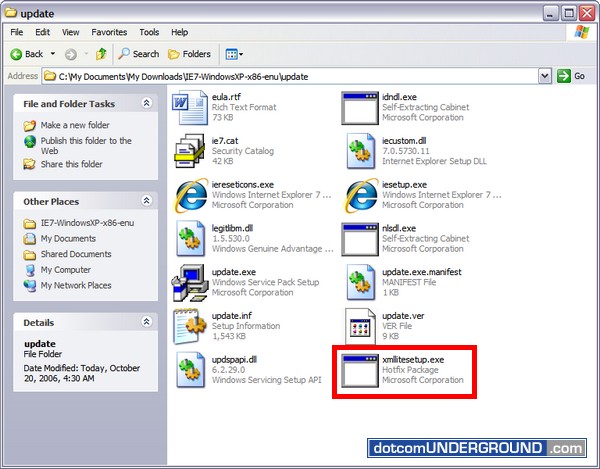 Enjoy Windows Internet Explorer 7 Final :)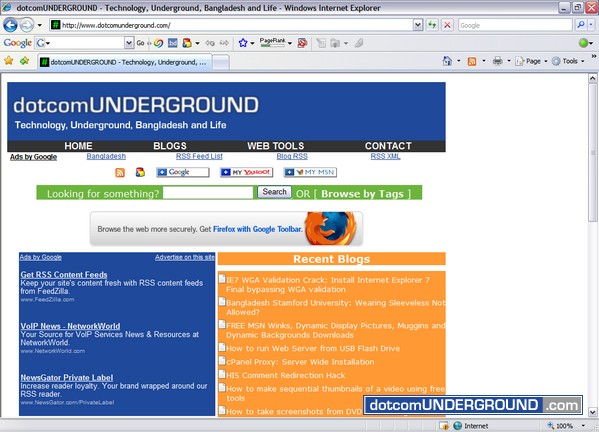 Download this article in PDF: Install Internet Explorer 7 Final bypassing WGA validation
---
Tags: How-To, IE, IE7, Internet Explorer 7, Internet-Explorer, Mircosoft, Tech, Technology, Tips and Tricks, WGA, Windows, Windows-Vista, Windows-XP
Categories: Tech, Tips and Tricks, Tutorials