---
Mostly big files are shared by splitting them into multiple parts. This usually makes things easier to both upload and download them. And allows the uploader to earn more premium points too ;)
But sometimes a single file of the archive might get deleted from the system. Imagine a case when you are downloading 20 100mb splitted files and after downloading 18 files, you find the 19th file is no longer available. Now your 18x100mb downlod is of no use!
To save users from this problem RapidShare.com provides a great tool called "Link Checker". With RapidShare Link Checker you can check the availability of all the links of an archive before you start to download.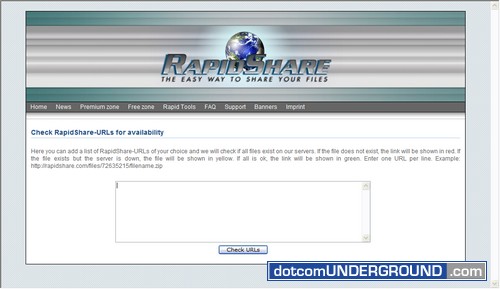 Using the checker is pretty simple. Just paste all the links in the box and hit the "Check URLs" button. If the file does not exist, the link will be shown in red. If the file exists but the server is down, the file will be shown in yellow. If all is ok, the link will be shown in green.
Note that you have to enter a single URL per line.
The RapidShare.com Link Availability Checker is available here:

http://rapidshare.com/en/checkfiles.html
---
Tags: RapidShare, Tech, Technology, Tips and Tricks
Categories: Tech, Tips and Tricks