---
Microsoft has released Windows XP Service Pack 3 (SP3) RC1 .
Download Download Windows XP Service Pack 3 (SP3) RC1 standalone installer directly from Microsoft:


Download Windows XP Service Pack 3 RC1 Standalone Installer
Windows XP SP3 includes all previously released Windows XP updates, including security updates and hotfixes, Windows XP SP2 and SP1 includisve, and select out-of-band releases. Windows XP SP3 does not include Windows Internet Explorer 7, although Windows XP SP3 does include updates to both Internet Explorer 6 and Internet Explorer 7. Although no major change to customer experience is made, however, SP3 does include some new features such as Network Access Protection (NAP) to help organizations that use Windows XP to take advantage of new features in the Windows Server 2008 operating system, new activation scheme where user no longer required to provide product key during a full, integrated installation of Windows XP SP3, Microsoft Kernel Mode Cryptographic Module and a Black Hole Router detection algorithm.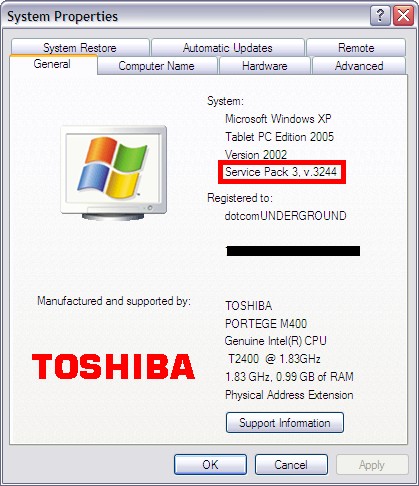 ---
Tags: Microsoft, Tech, Technology, Tips and Tricks, Windows-XP
Categories: Tech, Tips and Tricks