---
For all the facebook users and Bangla Music lovers around we have released Bangla Music Facebook App.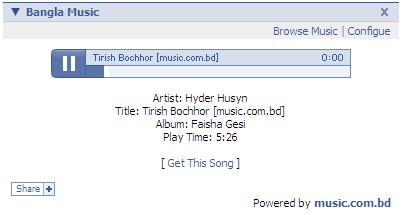 At present the app gives you the following features:
– Bangla Music Player
Add a bangla music player on your profile. Let your friends listen to your favorite songs.
– Download Bangla Music
You can now download our regularly updated massive collection of bangla songs right from facebook. Downloads are provided from our dedicated download server over 100mbps port. Resume downloads are fully supported.
– Dedicate Bangla Songs
Send song dedication to your friends. (no sms required ;) lol)
Your friends will be able to download the songs, listen online or even add on their profile music player.
– Facebook Wall and Message Attachments
Attach a song directly on your friends facebook wall and message.
– Share With Friends
Share you favorite bangla music with all your facebook friends with a single click using the facebook "share" feature.
– Latest Bangla Music News
Keep yourself updated with the latest bangla music news. Keep track of the upcoming concerts. Get informed on new album releases.
Get the Bangla Music Facebook App.
And dont forget to invite your friends ;)
---
Tags: বাংলা, বাংলা গান, বাংলাদেশ, Bangla, Bangla Music, Bangladesh, Facebook, Music
Categories: Bangla Music, Bangladesh, Music, Works