---
Do you want to get facebook notifications right on your desktop system tray?
Though apps like fbQuick and FizzBoost has been developed to meet such requirement, I personally find them bit over charged. Too many features, too much messy. Basically what I have been looking for was a tiny app sitting on the system tray to give me "toasts" when there is a facebook notification.
For that I thought of utilizing the "Facebook Notification RSS Feed" already provided by facebook. Facebook provides options of what content i wish to include in this feed. Thus I can include my "Facebook Connect Notifications" and notifications from selected applications. And as I plan to use an rss aggregator, this will allow me to get notifications of other rss feeds using the same app.
This way we do not have to deal with the annoying login problems we face with fbQuick or FizzBoost. This is also the only way to get notifications from multiple facebook accounts.
This is how the notification going to look like:


Clicking on the link will open that event with your default browser.
To get started first we need a light weight RSS Aggregator. Here I'll be using Feed Notifier which is light weight and just sits on the system tray (its all I need).
You can download Feed Notifier from here:
http://www.michaelfogleman.com/feed-notifier/ (Link to direct installer)
After installation you will find Feed Notifier running on the system tray.
Now right click on the Feed Notifier and click on "Add Feed…"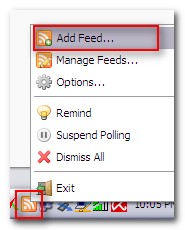 Now you need to get the RSS Feed Link for your Facebook Notifications.
To get the Facebook Notifications RSS Feed Link, Go to Inbox > Notifications.
Or you can just go to this link: http://www.facebook.com/notifications.php
You can control which notifications you want to receive from the right side panel.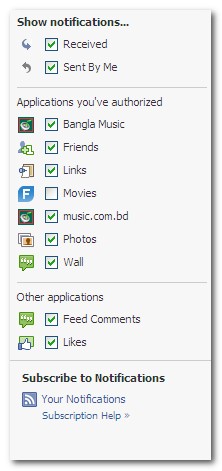 Now look for the "Subscribe to Notifications" section at the right hand side.
Copy the "Your Notifications" link.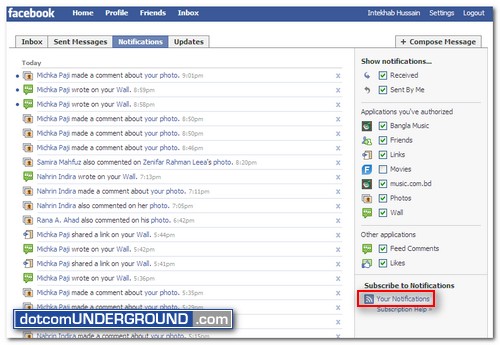 Now paste the copied url in the "Feed URL" field, set a Polling Interval (how frequently it will check for updates) and click OK.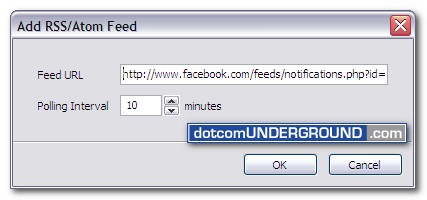 Done!
Enjoy the Facebook Notifications right on your desktop system tray. :)
If you like, you can also add the RSS Feed of dotcomUNDERGROUND by adding this RSS Feed Link:
http://www.dotcomunderground.com/blogs/feed/
Along with Facebook Notifications this will also notified when I make a new blog post.
---
Tags: Facebook, RSS
Categories: Tech, Tips and Tricks, Tutorials