---
While facebook is still blocked in (Digital) Bangladesh, I came across another VPN provider USA IP which allows free trial/demo VPN accounts.
The demo access is unlimited in time but you are required to reconnect after every 7 minutes. But that should work fine to have "emergency" access on facebook till the block gets removed.
To access the VPN service please follow these instructions:
1. Download USAIP.pbk from here and save the file to your desktop.

2. Double click on the USAIP.pbk file on your desktop.
An application will start as shown below: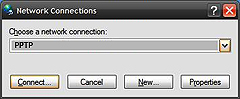 3. Select one of the USAIP PPTP connections from the dropdown and click on Connect . (L2TP is also available on Windows7 and VISTA computers, but on XP and 2000 you may need to follow the additional steps at the red hand icon below, in the errors section to the right)
A new window will appear. Enter your username and password as:
username: demo
password: demo
4. Click on Connect, and your computer will now connect to the USAIP VPN network.
After that you will be able to access facebook from Bangladesh.
---
Tags: Bangladesh, Facebook, VPN
Categories: Bangladesh, Tech, Tips and Tricks