---
Public VPN provides you with commercial–grade security for your Internet connection when you're on the road. Whether you use Wi–Fi access points, hotel room network connections, or other, non–trusted networks, Public VPN makes sure that your Internet transmissions are protected from eavesdropping.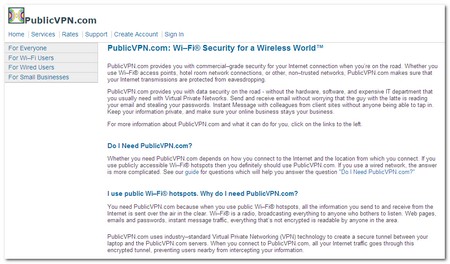 How can Public VPN service help you?
For Wi–Fi Users:
For Wi-Fi users, a VPN protects your data by closing the 'air-gap.' The 'air-gap' is simply the distance between your laptop and the internet access point. All the data that flows across that gap is unencrypted – meaning anyone within range of your internet access point can read all your emails, see the websites you visit, and steal all the website passwords you enter.
A VPN creates an encrypted tunnel between your laptop and the internet access point, and all your information passes through this encrypted tunnel. This prevents others from intercepting your data, protecting your information and your identity.
PublicVPN provides you with VPN access, so you can bridge the air–gap in a simple, reliable, low-cost manner.
For Wired Users:
A VPN isn't as important for wired users as it is for Wi–Fi users — as long as you trust the people providing the service. If you plug into a network drop at a client site, it's possible that their IT staff will intercept your internet traffic. That may include strategy emails, pricing spreadsheets, technical consultations with your staff, all valuable information to have during a sales negotiation.
A VPN is just good business practice. The client (or potential client) may or may not be ethical, but there's no reason for you to find this out during contract negotiations. Instead, proactively protect your information by subscribing to PublicVPN.
For Small Businesses:
Small businesses need VPN access more than large businesses. In a small business, every person on the road is important, and every employee is carrying information vital to your company's survival. The emails that your workers send contain observations, notes, strategy documents, sales approaches, and ideas that will define the future of your company. All of them need to be protected against prying eyes.
But setting up your own VPN can be a costly headache, especially if employees are out of the office occasionally. Instead, let PublicVPN provide the VPN for you, and concentrate on what you do best: running your business.
Public VPN servers are located in USA which means you will get USA IPs on connect. PPTP and L2TP/IPsec is available. Note that OpenVPN is not supported with PublicVPN.
PublicVPN's rates are simple. There is only one plan any you can subscribe with them either monthly or yearly.
Easy to follow instructions are provided on their web site which should get you running in no time.
Join PublicVPN today and step into a secure wireless world.
---
Tags: L2TP/IPsec, PPTP, PPTP VPN, US VPN, USA VPN, VPN
Categories: Tech