---
SurfoNym provides VPN, SOCKS, HTTP Proxy and SSH Tunnel services which allows you to bypass firewalls at full speed, anonymously.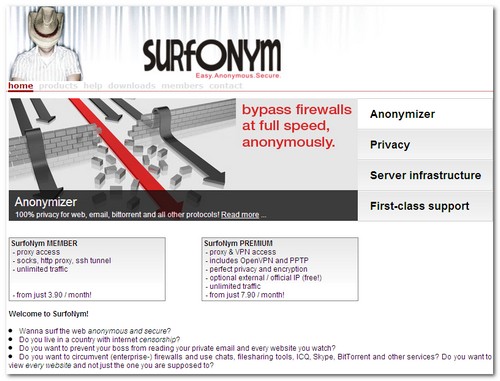 SurfoNym provides 3 different provides including a free one:
SurfoNym FREE
This one's for free! All visitors may surf the web through their anonymous Web Proxy – without paying a cent.
There are, however, some limitations:
# data traffic is not encrypted,
# there can be advertisement,
# we allow only one session per IP,
# we may limit bandwidth,
# options for filtering of JavaScript and Ads are deactivated,
# there's no support included.
SurfoNym MEMBER
As a paying customer you are entitled to use all advantages of SurfoNym FREE, without any limitations, but including several features!
This means,
# data traffic will be 128bit encrypted,
# you may use all available options,
# there is no advertisement,
# there are no limitations of any kind whatsoever,
# of course unlimited time and unlimited traffic,
# you may use our HTTP proxy server and our SOCKS proxy,
# you will get unlimited support.
SurfoNym PREMIUM
SurfoNym Premium product is recommended for customers, which want more than just surfing with a web browser. If you also want to use ICQ, filesharing programs, chats, newsgroups, email, etc. – anonymous and secure, of course – then you'll want to chose SurfoNym PREMIUM.
This product is also useful to circumvent limitations imposed by (enterprise-) firewalls, filters, etc.
Additionally to all features of SurfoNym MEMBER you'll get:
# Access our HTTP/FTP Proxy server and our SOCKS proxy. So you can surf the web easily through a real Proxy, not just a Web Proxy.
# Access to our VPN server. Setup your own encrypted VPN tunnel easily – 100% secure and anonymous. All Applications (like ICQ, BitTorrent, …) possible!
# Supported vpn tunnel protocols: PPTP+MPPE, IPSEC, OpenVPN, PPPoE, L2TP
You can find a list of comparison between Web Proxy, Proxy, SOCKS and VPN here.
Visit SurfoNym today and pick up the service that meets your requirements.
---
Tags: HTTP Proxy, OpenVPN, PPTP, SOCKS, SSH Tunnel, VPN
Categories: Tech